Hello all!
It's been too long since our last update, and for that we apologize. We've gotten a ton done. Most of it has been the not-so-glamorous support work that needs to happen. Since our last post, we've:
Acquired insurance for prototype leg and robot operations
Worked out a safety agreement with the Artisan's Asylum
Received all of our swag!

800+ T-shirts of many sizes
1500+ bumper stickers
1500+ wrist bands

Negotiated a deal with a shipping company to ship all our Kickstarter backers their rewards (without breaking the bank)
The T shirts arrived on Friday and are looking great:
So to all our Kickstarter backers, your stuff should be arriving in the next month.  It's taken us longer than we expected, and for that we apologize.  We still need to pack and address over a thousand packages, but we have all the equipment in place to do it.
On the robot side of things we've also hit a few milestones.
We've put together a mobile, electrically powered hydraulic power unit (HPU).  This HPU will make it easy for us to do controlled, indoor testing for the prototype leg.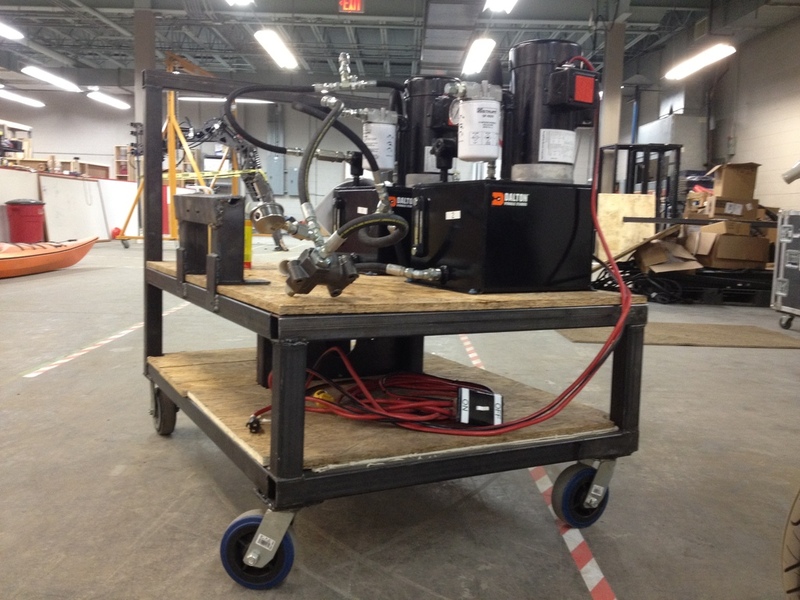 That cart may look familiar: we repurposed the custom-built cart we used for Gimpy, our first prototype leg.
"What did you use to power Gimpy?  Why don't you use that to power the big prototype leg?"  Great question.  Gimpy's hydraulic power unit could only supply 1000psi at a very low flow rate.  We need at least 2200psi to realistically test the full scale protoleg.
We've hydraulically plumbed the leg: all the necessary valves and hoses are in place.  The entire leg hydraulic system comes back to a pair of quick-disconnect fittings that connect to our mobile HPU.
%%wppa%%
%%slide=6%%
We've also built up the joint controllers we'll need to actually control this leg.  These joint controllers are much more advanced than the ones we used on Gimpy, and feature:
Fast Ethernet (100Mbps)
Power over Ethernet
12-bit rotary magnetic encoder (Austria Microsystems AS5045-ASSU) for reading joint positions
Dual 1.5A, 12-bit, dithering current controllers for driving valves
%%wppa%%
%%slide=7%%
Next up: packing and shipping over 1000 units of swag, then wiring the leg and *gasp* turning it on for the first time.
Thanks for reading and have a happy Thanksgiving holiday!