Hello again everyone!
First of all, we owe everyone a huge thank you – your response has been tremendous through this entire Kickstarter campaign. We hit our goal, and we're only $2,500 away from our Performance Upgrade – woohoo! We wanted to take a minute and show you the progress we've made over the past month while the Kickstarter was up, and ask you to help spread the word (or perhaps up your pledge!) to help us achieve our $95,000 stretch goal.
We've spent the past month taking refresher welding classes at Artisan's Asylum and getting our technique down, and then welding each of the links together. MIG welding all of the plates together to form the shapes of the links went very quickly, but we hit a snag when we started to weld on the hollow cylinders required to hold the shafts and pins necessary to tie the legs together. Our initial welding and jigging techniques resulted in misalignment of the cylinders, and we had to cut them out and try again. We now have a controlled 12 step process for carefully TIG welding the cylinders to the link bodies, and we've started slowly welding the final pieces on to each link. Check our progress out so far:


Because not all of the cylinders are carefully welded in yet, we haven't been able to assemble the whole leg in a functional manner, though we've finished all the pieces we need to weld in. Even so, we decided to assemble what we had by clamping the yaw joint to a column and supporting the weight of the leg with a mobile gantry crane. We were… pretty floored when we saw the size of this thing in comparison to James:
For an even more drastic comparison, check out Gimpy next to the full size prototype leg, with James and Mycroft in the shot. This is what we mean when we say Gimpy was a "half-scale" prototype leg…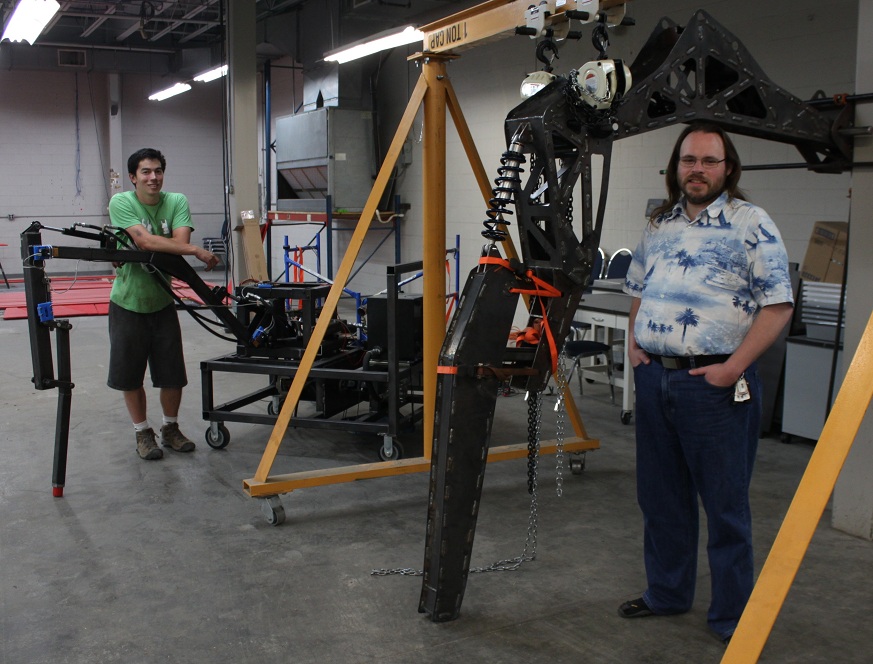 So, unfortunately, we don't have the full-size prototype leg up and working as we hoped we would by the end of the Kickstarter campaign, but we do have pretty much all of the pieces we need to get it there. From here forward it's just a lot of careful TIG welding of our cylindrical inserts, and then assembly onto the column. We'll start testing with Gimpy's power unit (which should allow us to control the legs at half of full pressure), and then see if we can get the engine hooked up to our hydraulic pump to drive the leg at full pressure and flow.
Once again, thanks for all your support! We really appreciate everyone's contributions thus far, and can't wait to meet you all in person. We would be incredibly grateful if you could help us reach our $95,000 performance upgrade, so we can make this robot capable of taking on any terrain we can throw at it!
Thanks everyone,
The Project Hexapod Team